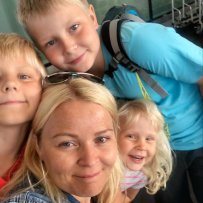 Ing. Šárka Fridriksson
Principal
She studied national economics at the University of Economics and special pedagogy. She devotes herself to the psychology of Zdeněk Matějček, who also inspired her when she founded the "Motýl s.r.o." kindergarten. Her motto is "punishment does not bring up". She places great emphasis on the individual development of each child.
She loves her three children, horseback riding and jogging.
She also completed several courses, for example:
Gifted child
Diagnosis of a preschool child
School maturity of a child
A child with ADHD in kindergarten, etc.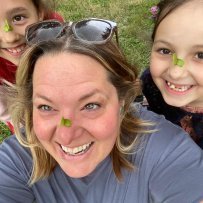 Claudia Van Der Sande
Educator, Native Speaker
I arrived from the United States, to pursue a career teaching English in Prague. I obtained my TEFL and Young Learner's certification to teach, and I am so excited to be working with children. While working on my Master's Degree in Nutrition at the University of Arizona, I spent several years working with children in the community, creating curriculums focused on health and wellness. It was very rewarding to teach children, and watch them grow, which is why I am very excited to join Motyl Kindergarten, where I can teach in a classroom setting. I believe learning should be fun and engaging, in a warm and supportive environment, that allows a child to be free with expression. It is important to allow children to grow as individuals while recognizing their varied needs along the way. In my free time I love to cook, bike, garden, travel, and anything involving nature.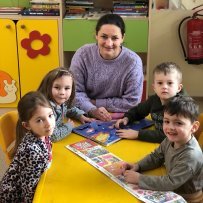 Věra Primasová
Educator
I am a mother of 6 children and working in a kindergarten is my dream come true.
I graduated from a higher professional school of pedagogy in Svátý Ján.

My hobbies are reading, swimming, nature walks. I like to sing.
I believe that the time spent with your children will be joyful and meaningful.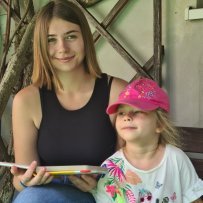 Valentýna Chorušonová
Pedagogic assistant
She passed examination for Pedagogic assistant. Her preference, and love, for working with children stems from her interest in psychology. Outside of the cassroon she is active in kids´camps and random children´s activities from basich schools.
"Not only do I like to teach and learn from children, but also discover the world with them."
In her free time she likes sports, cooking, traveling and reading.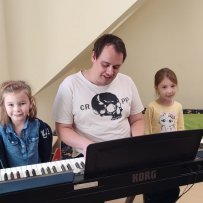 Jan Sýkora
Piano/keyboard teacher
Hi, my name is Jan, I teach piano/keyboards.
I studied music and drama at the Prague Conservatory (2009-2015) under the guidance of Jan Novotný and Jaromíra Mílova. I was a student of Aneta Majerová on the piano. I stopped playing the piano in the third grade, but I stuck with it until the 5th grade.
My musical role models include Hans Zimmer, John Williams, Phil Collins, ABBA, James Horner, Queen.
I officially work at the Legerova Kindergarten as a teacher and lecturer in music education. However, I like to continue doing private lessons after work.
I have been offering private lessons since 2011.
In my free time, I like to swim, relax, and occasionally compose melodies.
My goal in private lessons is not to show the student the instrument in the light of obligation, but in the light of fun and relaxation that playing the instrument can offer him. I look forward to meeting and new experiences.