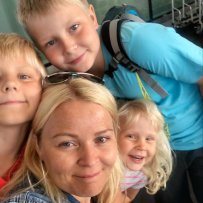 Ing. Šárka Nosková
Principal
She studied national economics at the University of Economics and special pedagogy. She devotes herself to the psychology of Zdeněk Matějček, who also inspired her when she founded the "Motýl s.r.o." kindergarten. Her motto is "punishment does not bring up". She places great emphasis on the individual development of each child.
She loves her three children, horseback riding and jogging.
She also completed several courses, for example:
Gifted child
Diagnosis of a preschool child
School maturity of a child
A child with ADHD in kindergarten, etc.
Sarah Limon
English teacher
I am from the USA and have moved to Prague to be an English teacher. I have a degree in Early Grades Education from West Chester University and I am a certified teacher in the USA. I also have TEFL certification to teach English. I have been working with young learners in the classroom for the past 9 years as well as working with kids at day camps for the past 4 years. As a teacher I love being able to make learning fun for students. I want them to be excited to come into my class and feel safe to express themselves and try their best to succeed!  I have volunteered in Thailand teaching English. I have always known that I wanted to be a teacher and moved to Prague to continue my career abroad. In my free time I enjoy traveling, cooking and baking, listening to music, and spending time with my family and friends. 
Irena Vodičková
Teacher
I finished secondary pedagogical school during my maternity leave to widen a new part of my life. Before that I worked as a manager, lived in Great Britain for a short time and also worked in the USA. This gave me a huge experience in English State graduation. I'm open to new pedagogist methods, which need to be studied. Children are individuals who need different stances and time for learning and growing. My motto is – play, work, train, go out and respect each other.
I´m focused on:
Music (rhythm, feeling and understanding, breathing exercises, musical instrument)
Art education (painting, creation by using various techniques and materials)
Training (athletics, yoga, children's warm-ups, sport lover in one word)
My free time is spent under the water scuba diving, on the hill skiing/snowboarding, training my kids and trying to save all dogs all around the world!
Veronika Říhová
teacher's assistent
She attended the "Respect and Be Respected" course, lectures on the importance of creative thinking in working with children, and a teaching assistant course. In the kindergarten, she loves crafting and painting with children.
She likes spending her free time with her family, traveling and playing sports.