Motýlek Preschool
We offer daily English lessons and extended speech therapy lessons. Our school is registered by the Ministry of Education according to law number 561/2004.
Welcome to our website. We are a private preschool in Prague 8 that is open all year round. In order to accommodate your needs to the fullest, we offer you a flexible schedule that is available during the following hours Monday – Thursday 7.30 – 18.30, Friday 7.30 – 17.00. We accept children from 2 to 6 years old.
English is a part of all activities during the day. English lessons take place daily with a native English speaking teacher.
Speech therapy is conducted individually by qualified speech therapists and in groups by experienced and educated teachers who provide all kids with the individual care they need.
Our goal is to prepare your children for the school years to come and a happy life with a smile on their faces.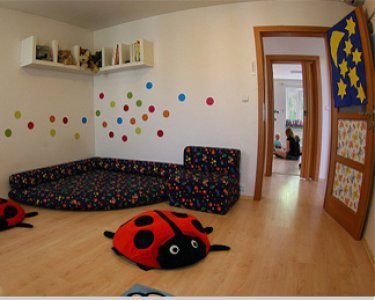 Our preschool is set up in a family house built in the thirties and is only a 5 minute walk from line C subway, Kobylisy station. The school has two play rooms, a resting room, and a dining room that leads to the garden. Children can use an outdoor playground equipped with various play elements and toys as well as a large sandbox.
Our all day program is focused on physical and mental development of children. You can visit any time that suits you, just give us a call.
A complete program and more information can be found under About us section.
Líbeznická tram stop
Kobylisy subway station – 5 min,
parking in front of the preschool.
Contact information Mrs. 
Fridriksson
728 53 90 49
Po - Pá od 7.30 - 18.30