Preschool preparation club
Monday 15.00 – 16.00
Instructor:

Ing. Šárka Nosková
Price:

3980 Kč
Description:

Do you want your child to be well prepared for school? Don't have enough time or space to practice what is required for your child's successful primary school entry? Does your child refuse to cooperate with you at home? Would you rather enjoy the free moments with your child rather than having to complete school work?

Join our preschool club then!

We focus on:

Holding a pencil properly, laterality, drawing and writing skills

Pre-math skills, pre-reading skills

Visual and auditory perception, speech development, time and space perception

Social skills, attention, working habits

Logic exercises developing imagination and thinking

Each child's individual development is very important for us!

Each child has their own exercise book, a portfolio, a quarterly pedagogical diagnostic and a personal evaluation every two months (available if requested). Our teachers also work closely with our speech therapist to make sure each student gets the individual attention they might need. 

Age: 5 – 7 years old

No more than 5 children in a group

Monday 15.00 – 16.00

From 17.9.2018 to 11.2.2019

Price: 199 czk / lesson – 3980 czk / semester.

 Contact us: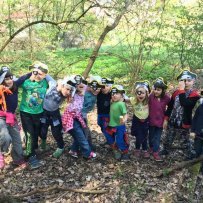 Preschool clubs for children attending Motylek – included in the school fee
Description:

PRESCHOOL CLUBS FOR CHILDREN ATTENDING MOTYLEK – INCLUDED IN THE SCHOOL FEE

Description: 

The school fee includes these activities:

Ceramics

Skilful hands

Dancing

Sport games

Musical and Art development

English
Prechool Curriculum
We follow our own curriculum which has organically been created by all teachers in Motýlek and it can be dowloaded.
"Motýlek ( Butterfly ) flying to gain more knowledge" – our first life journey